Sometimes it seems like time has been paused for a really long time. So many things have been paused while things keep moving along, full speed ahead. We're still going on adventures, around the house, around the city and state. I haven't updated in a long time. It's been hard lately, worrying about getting sick, passing illness along to others, risks and responsibility. We've been doing some things and foregoing others as we think is right but it's hard to be living under that cloud that covid has been hanging over our heads for so long now.
Halloween came and went. We did some carving at Grandma and Grandpas and we went trick or treating with friends this year, which was really fun.
Lilah has been drawing a lot and writing stories. Gavin's been working on 3-d printing, engineering projects and coding projects.
We've been getting outside for classes, walks, adventures of all sorts. I have learned to start a fire from friction with a bow drill kit I made, transfer it to a nest of kindling and blow until it ignites. There's been lots of hikes, tree climbing, trap setting (or trying; it's so, so hard!), and some snowy adventures.
Gavin built us a beautiful advent calendar of his own design with Lego to count down to the winter solstice. Lilah drew pictures of her friends to give them for the holidays and I'm hoping she will do one of the four of us soon! Gavin printed some really neat geometric ornaments to give.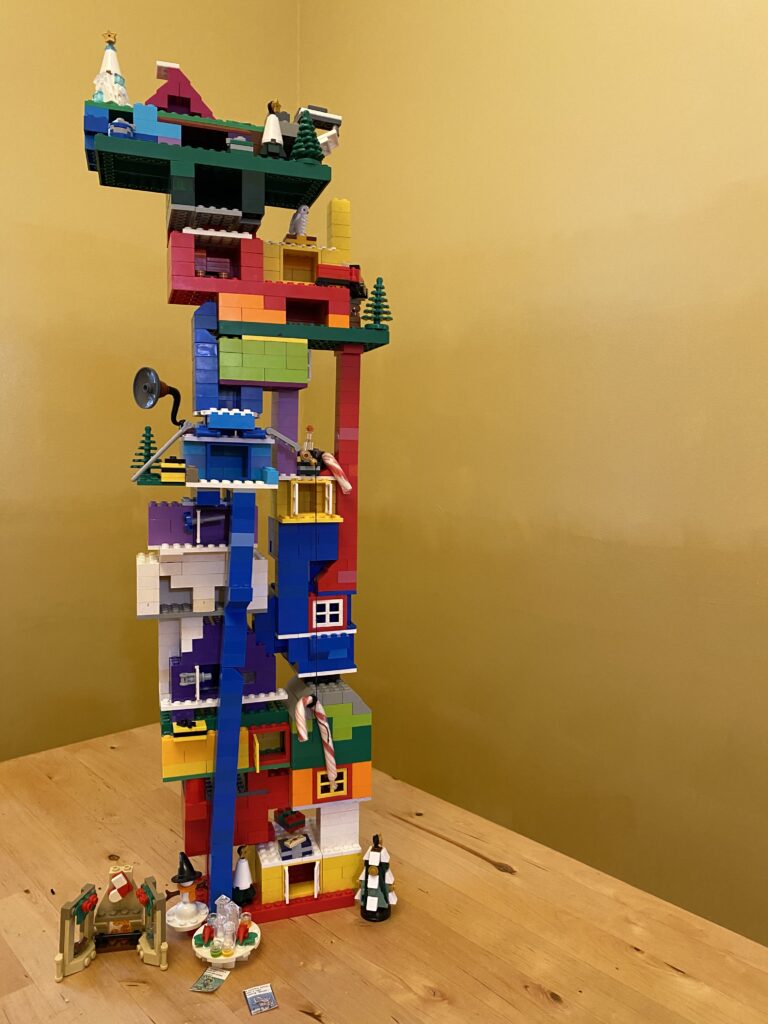 Our winter solstice hike near home to decorate a tree with orange slice ornaments for the birds was good.
We went up to Lakewood for Christmas this year, masked, vaxxed and testing twice a day. It was so good to be with family, but hard that it can't be as easy as it used to be. We missed those who couldn't be there.
We got home just in time for a visit with Chris's parents. We talked and played games and on New Year's Eve we went to Evermore, a fantasy park with quests and costumed characters. It was cold but fun.
Here's another new year already! I look forward to the many more good moments it will bring. Juniper and I are enjoying watching the lettuce grow in my new Aerogarden hydroponic grower and she already taste tested it. I'm still waiting.