We found a frozen waterfall in the hills in our neighborhood. It was lovely. We might go hunt other frozen waterfalls now that we've had a taste.
We've been working in the elf workshop, dreaming up and hammering together gifts for friends and family.
We've been going on walks, nearby and a little further out, with and without Juniper the cat.
We've been reading a lot. Gavin is working his way through The 13th Paladin series and Lilah has been working on reading the Snow Like Ashes series. I'm trying a few books at Gavin's suggestion and keeping up with my library books in digital format. We're listening to The Trials of Morrigan Crow series in the car, refreshing our memory of the first two in preparation for listening to the newest one.
The kids spent an hour on a walk one day coming up with a plan for a video game that was food themed. Lilah created a kingdom inside with an Alice In Wonderland focus and Gavin was working on a Pizza Factory basement level. It was so creative and fun and they put a lot of experience and thought into it together, just for fun. I was struck by how in this case, computers and games inspired creativity for them rather than stifled it.
We baked spritz cookies, vegan and gluten free for the first time. The kid enjoyed watching the shapes that come out of the strangely decorated plates and Lilah helped decorate them. I had to adjust the recipe on the spot as it just wasn't working, not coming out properly, or holding together as well as not sticking to the baking sheet but with the addition of a bit of aquafaba they were working like they should.
The kids have both been working on their typing through a program called TTRS which is fairly enjoyable and they are making good progress! It's a good thing to work on while at home more than usual.
Gavin is working on learning about the code language Java. He's trying out Codecademy.com this time. Right now he's working on running a lemonade stand in his course.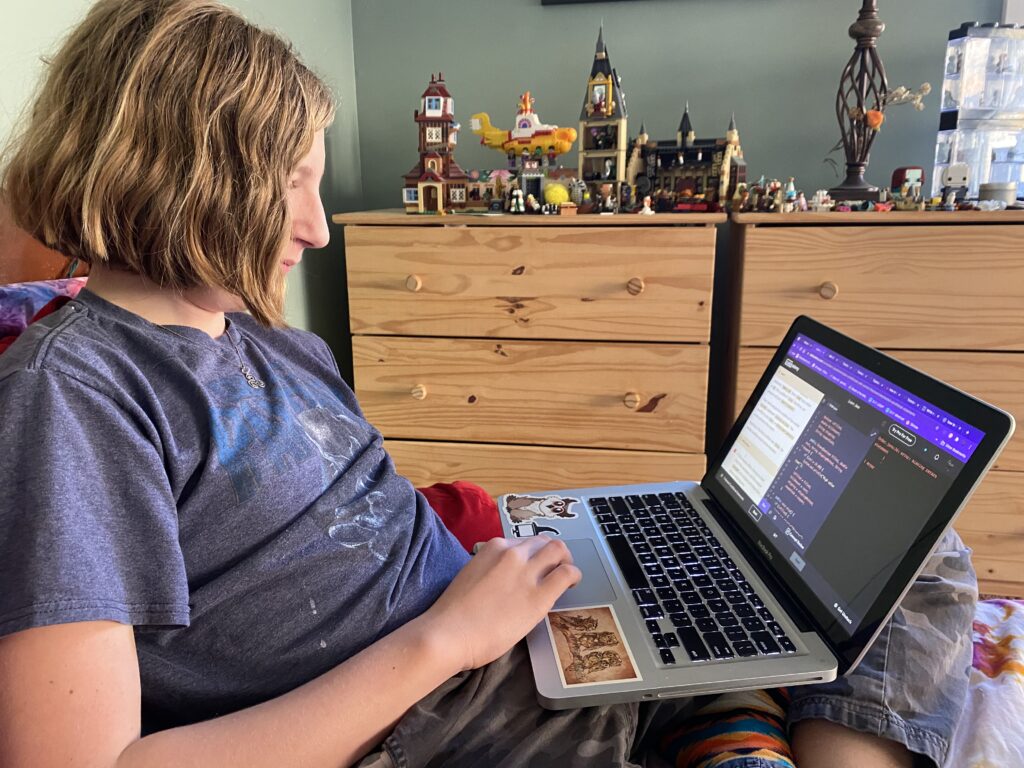 Lilah's been spending a lot of time drawing. Here's one of her latest creations.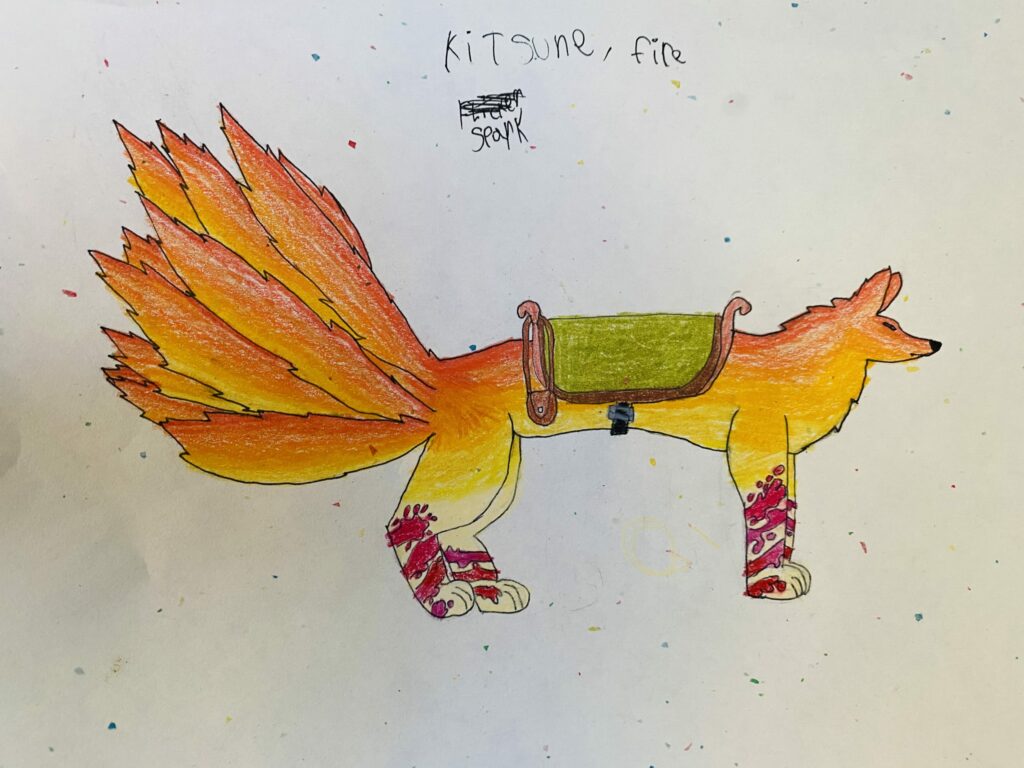 We went snowshoeing in the mountains. There hasn't been enough snow lower yet to do much snow play but we went up higher and found some nice fresh white stuff coming down and enough already there to play in. We found some cozy spots under the pines and spruces that felt like hideouts and wove between the trees and the stream where the kids enjoyed pushing bits of snow into the water and watching them tumble and very slowly dissolve. We spotted some rabbit and squirrel tracks along the way. Another day we went again with my parents and sister and Dave. There were fewer squirrels spotted but we did find a snowwoman.
We played the card game B.S. with they kids, where you bluff and call others bluffs. We ended up playing about 6 games because they enjoyed it so much. It was fun and we all laughed a lot.
On the winter solstice we took a walk and decorated some trees with dried orange ornaments that we'll take down later.
We celebrated the holidays on Zoom this year due to the corona virus pandemic. It's gotten worse here in Utah during the colder months and the holidays so getting together in person and inside is just not a smart move. So, we had a call with the local crew Christmas Eve, the Johnston family on Christmas and the Reynolds the day after. It was so good to see faces and hear voices of loved ones but so unsatisfying when I really want to be there and be able to hug people. We made a big batch of spritz cookies and molasses cookies and delivered them to my sister and my parents earlier to munch on while wrapping and unwrapping and zooming. We took a socially distanced walk in the hills with my sister, Dave and my dad after the calls on Christmas evening and looked out over the city, watched the sun set and the stars appear.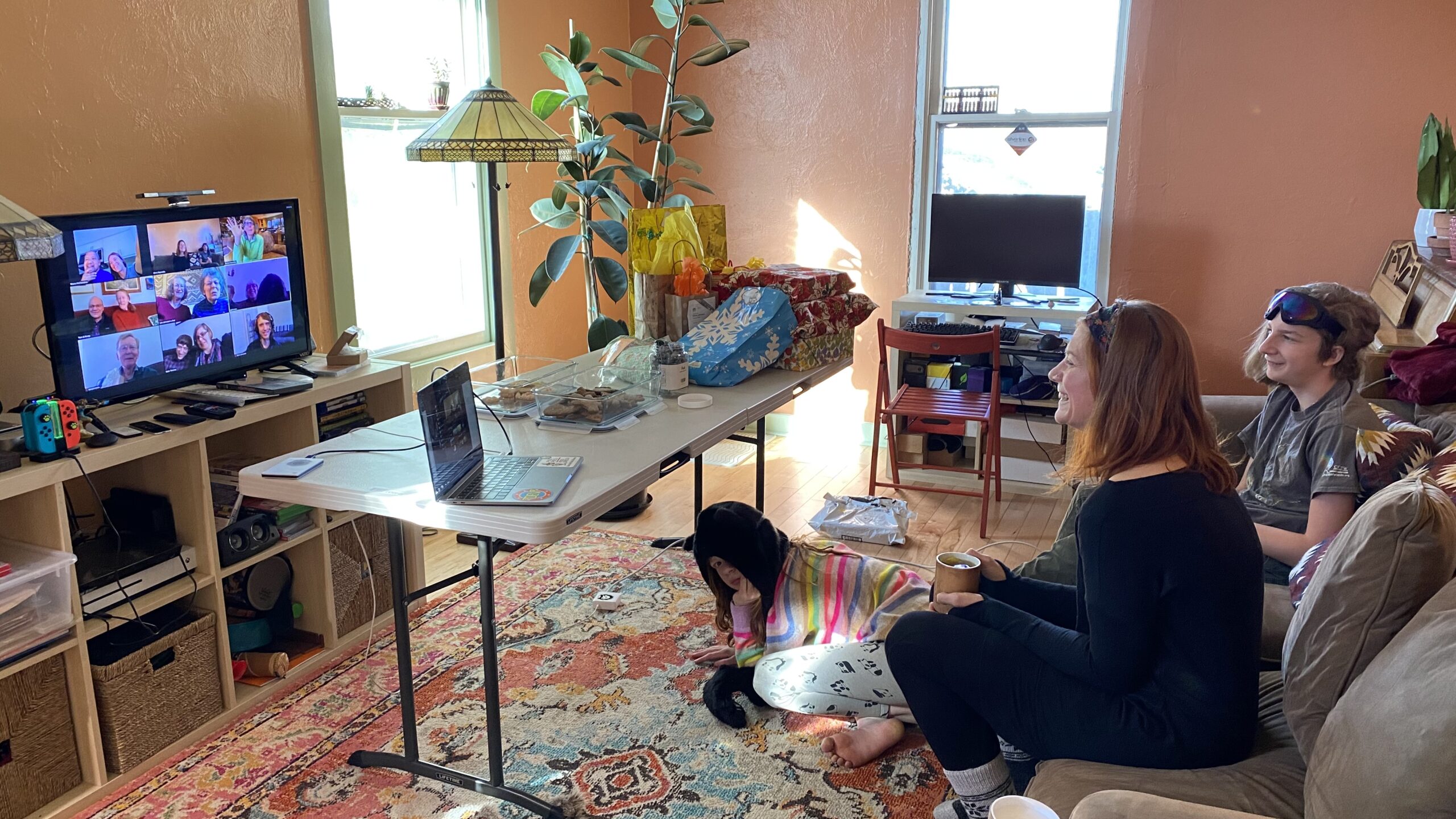 Gavin and Lilah are so tall now that Gavin is less than an inch shy of me. It's a really weird but good experience to look at your kids grown as big as you. Gavin and I are sharing a flannel shirt we like. It's weird to think that they will have grown so much during these months (years) of isolation that when we are able to see people again there will be a huge difference in their sizes.
We headed out to Utah Lake to see the ice there. It gets windy enough that often there are ice pushes, where ice is broken into shards and blown up toward or onto the shore in drifts and piles. It made for some beautiful textures! We walked out on the ice where it was thick and solid and we saw some raccoon prints in the ice. We discovered that rocks skidding across the ice there makes lovely exciting sounds too. When it gets colder the whole lake freezes and you can walk all the way across. Maybe we'll get that chance sometime.
I'm anxious to tie dye and ice dye again. We didn't do much this last season because of my knee injury so I am really looking forward to playing with the colors this spring. I'm working on listing the rest of the items we have already made in our Etsy shop PossibleOctopus so we will have room for more come warmer weather.
We are working on a new time organization method for our family, where we each set goals for the week and then check in about how we're doing on those. We are hoping to help the kids practice taking responsibility for their own time, projects and goals more by giving them support in practicing those things. So far we've only just begun but it is exciting to hear about what things the kids want to accomplish or spend time doing.
The world is not puddle wonderful but icy wonderful here, at the moment.